To place an order, message me through my contact form.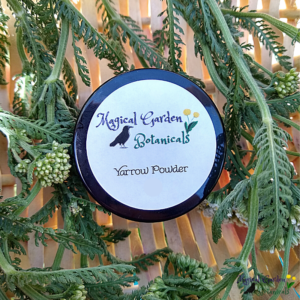 Yarrow Powder or Yarrow Plantain Powder   $5  (Net Wt 4 g. jar) 
The antiseptic, anti-inflammatory and astringent properties of yarrow (Achillea millefolium) make it a must for the first-aid kit. The astringent properties help to slow bleeding from wounds and also bloody noses.  It can be used as a poultice for bruises and insect bites. Considered safe for topical applications for the entire family, including furry and feathered members. (Please check first with your veterinarian before using yarrow on your pets.) As with any herbal remedy, please check for sensitivities before use. 
Yarrow Plantain Powder combines the benefits of yarrow and plantain. Plantain (Plantago major) is also astringent, anti-inflammatory, and vulnerary (skin healing). Plantain is an excellent choice to use a poultice for insect bites and for its drawing properties for splinters.
To use: Apply to cleansed, minor wounds. Do not use on dirty, infected, deep, or puncture wounds. It can also be used as a poultice. Discontinue use if irritation develops.
Ingredients:
Yarrow+ (Achillea millefolium)  or Yarrow+ (Achillea millefolium) and Plantain+ (Plantago major) +organically grown in the Magical Garden
These products are not intended to diagnose, treat, cure, or prevent any disease. Products and statements here have not been evaluated by the FDA. Product descriptions are for informational purposes only and are educational in nature. Be aware of any plant allergies and medications you are currently taking before use. Please discuss with your qualified health care provider before making any dietary or lifestyle changes.