To place an order, message me through my contact form.  Not available for shipping during the summer months as I cannot guarantee it will not melt during transit.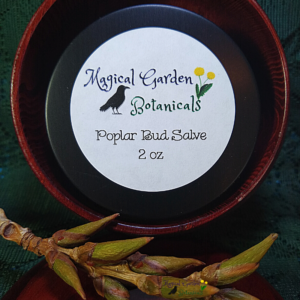 Poplar Bud Salve  $17  (2 oz. tin)
This salve has the aroma of spring. It is made with the poplar buds from my beloved trees that I refer to as The Four Sisters and Brother. Don't be fooled by the simplicity of the ingredients, only 3 to be exact; this salve is a powerhouse! For external use, some of the properties of poplar buds include analgesic, antimicrobial, and antiseptic. This salve may provide relief from sunburns, burns, skin irritations, joint and muscle discomfort, and minor skin wounds. 
Directions: Apply liberally to the affected area. For external use only. Do not use if allergic to aspirin. Discontinue use if irritation develops. Store in a cool, dry place away from the sun.
Ingredients: Poplar bud+ (Populus spp.) infused olive oil*, beeswax.  *organic +organically grown in the Magical Garden
These products are not intended to diagnose, treat, cure, or prevent any disease. Products and statements here have not been evaluated by the FDA. Product descriptions are for informational purposes only and are educational in nature. Be aware of any plant allergies and medications you are currently taking before use. Please discuss with your qualified health care provider before making any dietary or lifestyle changes.