To place an order, message me through my contact form. Not available for shipping during the summer months as I cannot guarantee it will not melt during transit.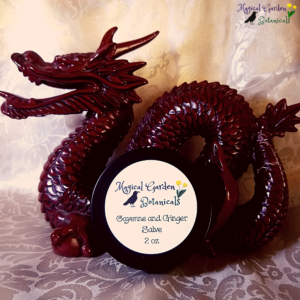 Cayenne and Ginger Salve $13  (2 oz. tin)
Great for sore muscles and achy joints.  It can also be used to warm up cold feet. The warming properties of cayenne and ginger encourage healthy circulation. 
For best results with chronic conditions, use daily for a minimum of two weeks. Discontinue use if irritation develops. Avoid contact with eyes, cuts, irritated and sensitive skin. Wash hands after use. May stain light-colored fabric. Store in a cool, dry place away from the sun.
Ingredients: Cayenne pepper* and ginger root* infused olive oil* and beeswax. *organic
These products are not intended to diagnose, treat, cure, or prevent any disease. Products and statements here have not been evaluated by the FDA. Product descriptions are for informational purposes only and are educational in nature. Be aware of any plant allergies and medications you are currently taking before use. Please discuss with your qualified health care provider before making any dietary or lifestyle changes.