To place an order, message me through my contact form.  Not available for shipping during the summer months as I cannot guarantee it will not melt during transit.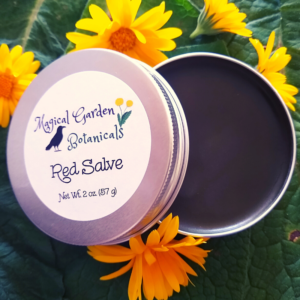 Red Salve  $17  (2 oz. tin)
Contrary to the name, this salve isn't red at all. It's a deep green, even though it contains St. John's wort oil,  which happens to be a rich burgundy red color. Since I already had a salve that was named Green Salve, I needed a different name. The name Red kept coming forward; it was insistent. I wasn't sure why and then I realized something. Scars, burns, bruises, and minor scrapes are all red at some point or another. The ingredients in this salve help to ease redness from those types of injuries. So, Red Salve it is. 
Ingredients: Comfrey+ (Symphytum officinale) and calendula+ (Calendula officinalis) infused tamanu (Calophyllum inophyllum) oil*, St. John's wort+ (Hypericum perforatum) and lavender+ (Lavandula angustifolia) infused olive (Olea europaea) oil*, beeswax.     *Certified Organic   +From the Magical Garden
Directions: Apply as needed to burns, bruises, scars. Do not use on open wounds. Store in a cool, dry place.
These products are not intended to diagnose, treat, cure, or prevent any disease. Products and statements here have not been evaluated by the FDA. Product descriptions are for informational purposes only and are educational in nature. Be aware of any plant allergies and medications you are currently taking before use. Please discuss with your qualified health care provider before making any dietary or lifestyle changes.