Tortilla Soup
The winter solstice, also known as midwinter, falls on the 21st of December this year. For those of us in the northern hemisphere, it is the day where we experience the shortest day coupled with the longest night. For many ancient cultures and some modern ones, this was a time of celebration. It's a time to welcome warmth and cheerfulness during a season that may feel cold and dreary.
In our home, one of the ways we choose to honor this day is with a special meal. In keeping with our family tradition, this meal is usually a warm and nourishing soup made with ingredients that are reminiscent of the sun.
One such recipe that is requested at our home is Tortilla Soup. The inspiration for this particular recipe came about twenty years ago from a Cooking Light magazine and evolved to the method I use today. This recipe checks all the boxes for a perfect holiday meal- it's simple to make, requires basic ingredients, and can be prepared in a crockpot or pressure cooker. 
I use a 6 Quart Instant Pot for this recipe. However, it can be adapted to a crockpot or prepared on the stove.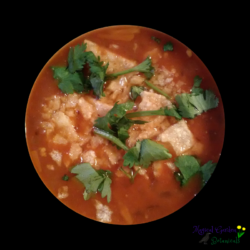 Tortilla Soup
Ingredients
1 tablespoon ghee or your preferred cooking oil
1 yellow onion- medium sized diced
4 garlic cloves minced
1 tablespoon chili powder
1/2 teaspoon ground cumin
1 teaspoon dried oregano
1 teaspoon sea salt or pink Himalayan salt plus more to taste
6 cups broth vegetable or meat-based, homemade or store-bought
32 ounces strained tomatoes
4 cups refried beans or 2 cans of store-bought refried beans
2 carrots shredded
1 bay leaf
Tortilla chips crushed
Instructions
Heat ghee in the pressure cooker using the saute´ function. Add onion and saute´ until translucent. Add minced garlic and cook a few more minutes.

Add remaining ingredients except for tortilla chips.

Close lid and cook for 10 minutes.

Once done cooking use quick pressure release.

Stir the soup and serve in a bowl with crushed tortilla chips and toppings of your choice.

Topping ideas include plain yogurt or sour cream, chopped cilantro, hot sauce, shredded cheese, avocado, jalapeno.
Notes
Optional- 1 lb. cooked, shredded chicken breast or thigh meat added during cooking time. For a crockpot: saute´ onion and garlic on the stove and then place all ingredients in the crockpot. Cook on low heat for two or more hours.  For a stovetop: follow steps 1 and 2 and then simmer for 30-45 minutes or until the vegetables are tender. Whenever possible, please choose organic foods in their most natural, unprocessed state. I try to avoid canned foods and choose tomatoes in glass jars and use homemade refried beans. For more information on the specific brands I use, how I make refried beans and chili powder, or any other questions email me at ivanna@magicalgardenbotanicals.com
Wishing you and yours many bright and beautiful blessings this holiday season. 
*This article was originally published in the December 2019 issue of Tehachapi Living Magazine. Due to errors in how they formatted the recipe directions, I decided to post a corrected version here on my blog. View the original publication here.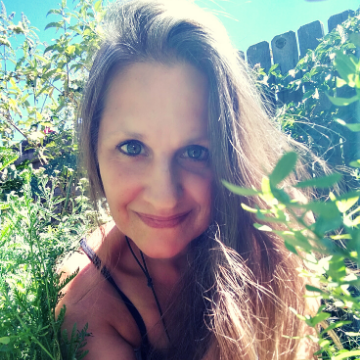 Daughter of the Earth, Mother of her creations. Ivanna (Evie) doesn't care for titles, but the ones that fit best are homeschool mom, herbalist, and blogger. Her greatest joy is guiding others to find true wellness within themselves and Mother Earth. When not spending time with her beloved family, she can be found researching everything related to holistic wellness, crafting herbal remedies, or visiting with the plants in the Magical Garden.