Onions!
If you like to cook, you already know that onions are a vital part of any recipe. Despite their eye-watering reputation, onions are a nutritional superfood. Onions are high in vitamin C and are also a good source of dietary fiber and folic acid. They are also a major source of a flavonoid called quercetin. Flavonoids are very similar to antioxidants and are often classified as such. Cooking onions will diminish some of the beneficial properties, unless they are being simmered in a liquid, such as soup.
Read more about onions here.
One of my favorite recipes that uses onions is onion soup! Perfect for a cold wintry day, this soup will warm you up.
This is a simple recipe that can be adapted in many ways. Traditionally, onion soup is made with beef stock, however, this soup is vegetarian.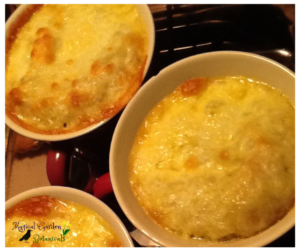 Ingredients:
5 tablespoons butter
2-3 medium onions (thinly sliced)
1 tablespoon flour
5 cups water (or vegetable stock)
Salt/pepper to taste
Garlic powder ( to taste)
Dried or fresh thyme (1/2 teaspoon or less)
Crusty French bread (or any bread, softer bread should be toasted)
Sliced cheese such as Swiss, cheddar, or Gouda
Directions:
Melt butter in a large saucepan. Add onions. ( I chop them in the Vitamix) Cook over low heat, stirring often until they become soft and translucent.
Sprinkle in the flour and stir for a few minutes.
Pour in water or stock. Add seasonings. For seasoning without stock, I add salt, black pepper, garlic powder, dried thyme, and my homemade veggie powder.
Bring to a boil. Then reduce heat to a simmer, cover, and cook for 45 minutes. Stir occasionally.
Slice bread and place in the bottom of an ovenproof bowl or soup mug.
Add soup and top with the cheese.
Bake in 350′ oven until the cheese is toasted and bubbly.
Remove from oven and allow to cool a little before serving.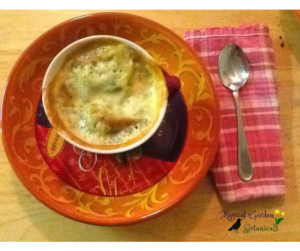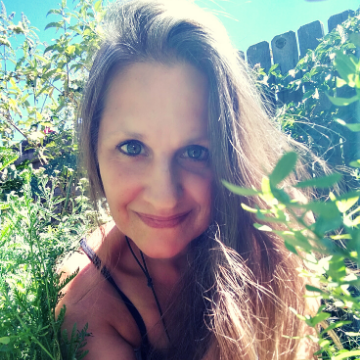 Daughter of the Earth, Mother of her creations. Ivanna (Evie) doesn't care for titles, but the ones that fit best are homeschool mom, herbalist, and blogger. Her greatest joy is guiding others to find true wellness within themselves and Mother Earth. When not spending time with her beloved family, she can be found researching everything related to holistic wellness, crafting herbal remedies, or visiting with the plants in the Magical Garden.