Real Food With Real Plans
Meal planning is an overwhelming concept to many people. As a matter of fact, clients have shared with me that planning and organizing meals are the biggest challenges they face while making dietary changes. For some, a dietary change is simply to embrace foods that are more nourishing or to try something new. While for others, it can be a complete nutritional overhaul that encompasses a total lifestyle change. Sometimes this is due to health issues or even in an effort to avoid certain conditions. So the question always comes down to- I know what I am supposed to eat, but how do I get organized? And, how do I find a variety of recipes that suit my needs? Time is precious, no one wants to spend hours on the internet trying to find a recipe. Conversely, making the "same thing" week after week isn't fulfilling, to say the least.
The Solution
Menu planning is something I have done for many years. I plan 2 weeks out and make a shopping list to reflect the recipes I will be preparing. Sounds great, right? For the most part, it is. Except when I am uninspired or I really want to try something new. There are several stand-ins that are on a regular menu rotation for us, but we do enjoy new recipes. While at our home, we don't have any dietary restrictions, we are selective in our choices. Our weekly menu is balanced with mostly vegetarian recipes and only a couple of dishes that include meat. Meat choices are more of a side dish or accompaniment to other foods.
When I first heard about Real Plans, I thought to myself, "That looks like a great idea, but I can plan my own weekly menu." I figured I would take a peek and maybe I could borrow some ideas for my planning. Well, that was all it took, I signed up as a subscriber. I was so impressed with the variety of options that I decided it would be a wonderful addition to my current affiliate programs. So here's Real Plans….honestly, an amazing tool to aid in living a healthier and more organized life!
Why These Meal Plans Appealed To Me
Authenticity is important to me. Each and every product or service I recommend on my site is something I have tried myself and feel that it will add value to your life. This program is no exception. Here are some of the options that I have enjoyed with Real Plans:
A variety of meal plans including Paleo, Vegetarian, Keto, AIP, and Traditional. These can also be tailored to your needs as well, with options such as dairy-free and gluten-free.
The option to add or remove certain ingredients so the perfect recipes are presented.
Affordable.
Excellent customer service. I decided to set up my plan late one night and had a question. I was answered within minutes by a live person.
Recipes from well-known food bloggers.
Ability to import your own recipes.
A shopping list is generated with the meal plans.
Options to plan breakfast and lunch as well.
Nutritional information included with each recipe.
Menus keep the season in mind, regardless of where you live.
Serving sizes can be adjusted. Perfect if you like to cook extra for leftovers.
This list could go on, but really, who reads long lists? Just check it out for yourself in the video below. 
See How Real Plans Works: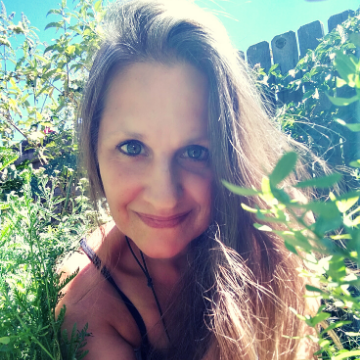 Daughter of the Earth, Mother of her creations. Ivanna (Evie) doesn't care for titles, but the ones that fit best are homeschool mom, herbalist, and blogger. Her greatest joy is guiding others to find true wellness within themselves and Mother Earth. When not spending time with her beloved family, she can be found researching everything related to holistic wellness, crafting herbal remedies, or visiting with the plants in the Magical Garden.