Yes, dear neighbor, my underwear is pink
And black and with hearts and polka dots! No, I don't have a Peeping Tom in my neighborhood, or at least I don't think I do. Actually, my neighbors would have to peek over the fence to see my laundry line. Regardless, I am sure to be hanging my laundry out on the laundry line on warm and sunny days.
I have been doing this for years and really miss it during the cold and rainy season, which was pretty much non-existent this year in California.
I can't think of a more enjoyable way to lessen my ecological footprint. Besides conserving energy, it also lengthens the life of my clothes dryer. So here are some tips I have learned over the years on hang-drying laundry.
You don't need a fancy laundry line. Some rope tied to two well-secured posts will work just fine. I have the umbrella type secured into the ground; it is great for my small space.
Pick a spot that is sunny with good airflow; this helps to dry the clothes faster.
Use caution with delicate fabrics and hang them in a shady spot or indoors.
Get plenty of clothespins, and forget the plastic ones; the wood ones last a lot longer. A clothespin bag, the kind that hangs on the laundry line, is great for keeping clothes pins handy.
I hang all dark-colored clothing inside out to minimize fading and bring them in as soon as they are dry.
I leave white clothing out all day, allowing the sun to bleach them naturally.
When the laundry is dry, run it through the dryer for about 10 minutes or less to remove any lint, wrinkles and to soften the fabric. Unless you like to iron, then skip that step.
I love the way my laundry smells when it has been dried out in the sun. No laundry soap or fabric softener can replicate the way sun-dried laundry smells and feels. Lessen your carbon footprint and use Mother Nature's clothes dryer…it's free!
Remember, a healthy planet begins with you!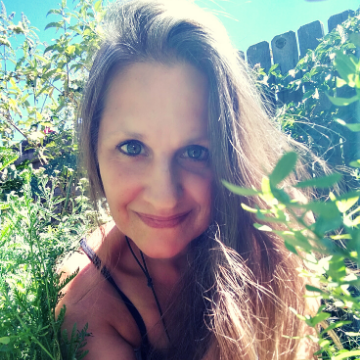 Daughter of the Earth, Mother of her creations. Ivanna (Evie) doesn't care for titles, but the ones that fit best are homeschool mom, herbalist, and blogger. Her greatest joy is guiding others to find true wellness within themselves and Mother Earth. When not spending time with her beloved family, she can be found researching everything related to holistic wellness, crafting herbal remedies, or visiting with the plants in the Magical Garden.