The Enchanting Summer Garden
The enchantment of a summer garden. Maybe it's a community garden, a few potted plants on a front porch, or a vegetable garden worthy of a farmer's market. Regardless of the size of the garden, there is a spark of magic in even the tiniest plot of soil. The unsurpassed beauty of the mystical dance that happens between flora and fauna. The garden beckons, in its own unique voice, for us to practice mindfulness.
Magical springtime
In the spring we experience the magical feeling of planting a seed with the intention of watching it grow and bloom. With childlike wonder, we rejoice with excitement at seeing the first tiny sprouts as they reach towards the sun. We continue to tend and nurture. All the while, there is a knowing that our efforts will be rewarded.
Summertime garden
My summer garden is a place of peace, nurtured love, and mindfulness. Where lessons that may not have come from books are learned and shared. And at times, beauty is found in the imperfect perfection of nature. And maybe, just maybe, if you quiet your mind and allow your imagination to soar, you may encounter a fairy or two as they so delicately dance through the fairy garden. Join me as I take a stroll through my little summer garden. I will share some tips along the way as well.
Morning glories
If you haven't guessed it yet, these are among my most favorite flowers. They grow all over the yard, by their own accord. So much that I often have to relocate seedlings. Even though they are quite prolific, I still save seeds every fall. Many times I do this so that I may share the seeds with others. However, despite the little bit of coaxing and relocating, I still plant some seeds throughout the garden.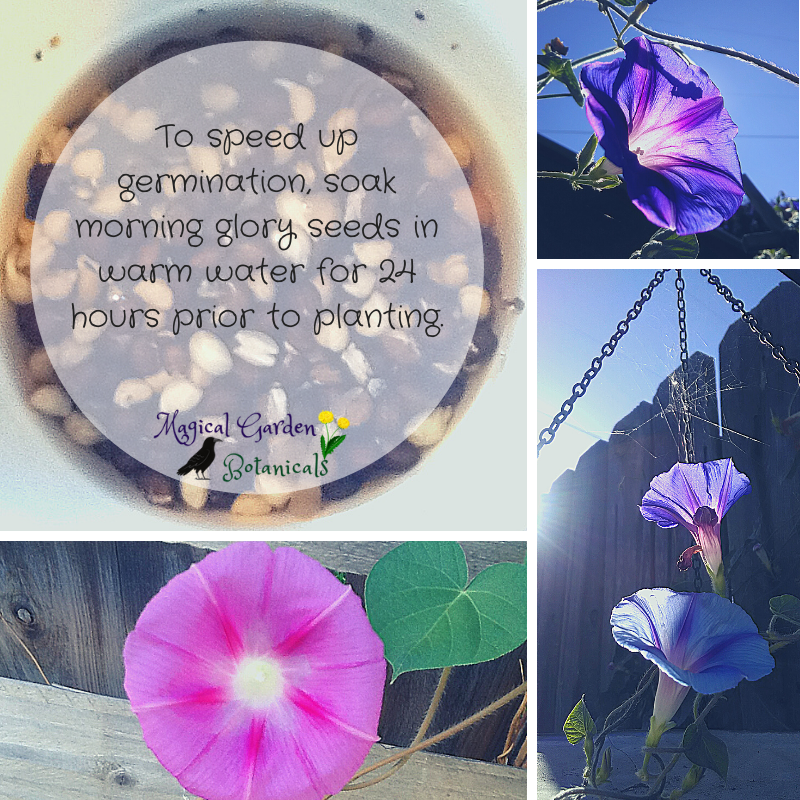 Healing plants
Every spring I add a few new plants to my garden. Usually, I will pick plants that offer healing and/or culinary benefits. Some offer both! The way I see it, if I am going to spend the effort nurturing a plant, it may as well offer some type of benefit. The majority of the plants in my garden are grown from cuttings or seeds. I do purchase some as seedlings when needed. Some of the plants not shown in the graphic below include apple mint, basil, chocolate mint, ginger, lavender, lemon balm, lemon basil, lemongrass, marshmallow, mint, mugwort, mullein, oregano (2 varieties), parsley, rosemary, sage, savory, spearmint, stevia, and thyme.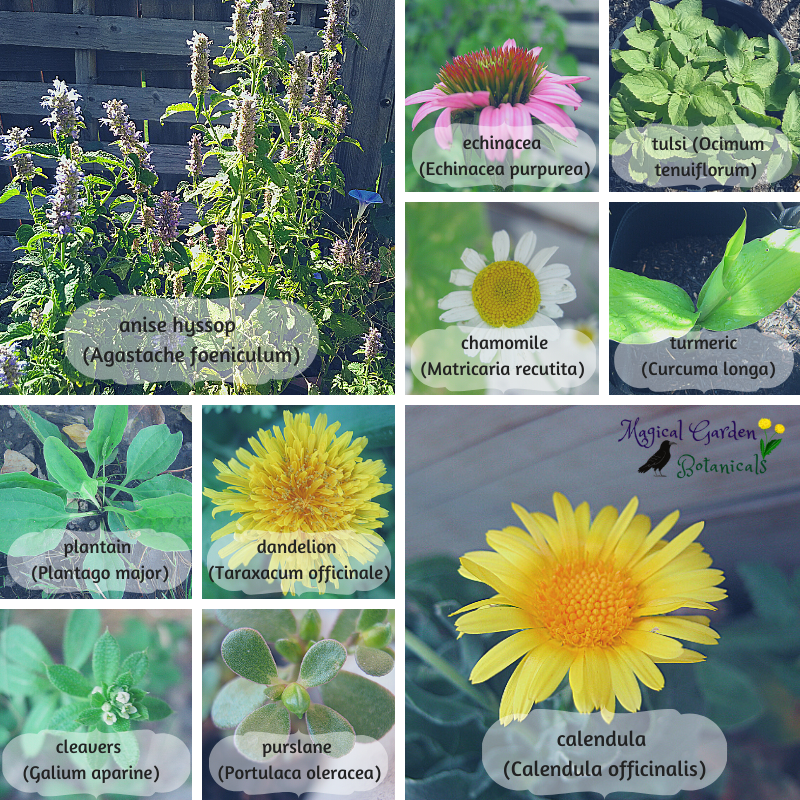 Tasty treats
California experienced a wonderful rainy season this past spring. The cilantro first began sprouting in December. By the spring it was almost 3 feet tall. Cilantro reseeds itself year after year so I maintain a dedicated area in my garden box for it. Regardless, I save a handful of seeds to replant the following year in other areas. I also store some in the herb pantry for recipes that call for coriander.
To avoid potential critters, I grow strawberries in hanging pots. Currently, there are 13 plants hanging from our back patio canopy. This variety of strawberry produces fruit in the spring, slows during summer, and then produces more in late summer. During winter, I cover the plants with plastic to protect them during the colder months. The tomato plants this year, so far, have provided us with a fantastic variety of tomatoes.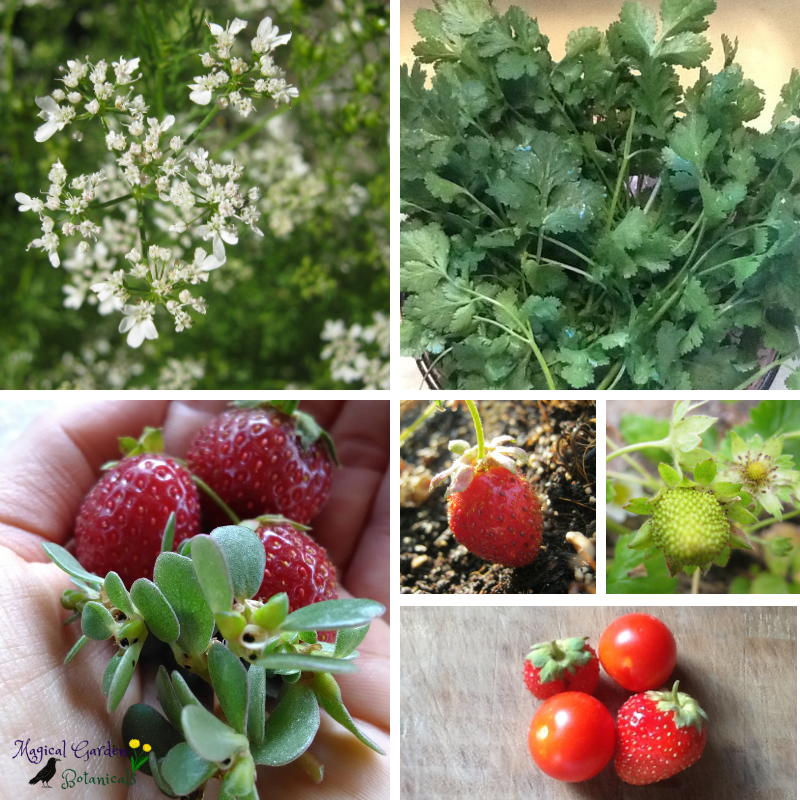 Beautiful flowers
Flowering plants grow all over the garden, with the vegetables and in the herb pots as well. Some share a space with strawberries and others enjoy the company of the onions and peppers. Flowers, such as sweet alyssum, calendula, marigold, and lavender are beneficial to plant alongside vegetables. They attract beneficial insects and may repel certain pests. Water is always set out for little visitors. Shallow dishes are best for bees.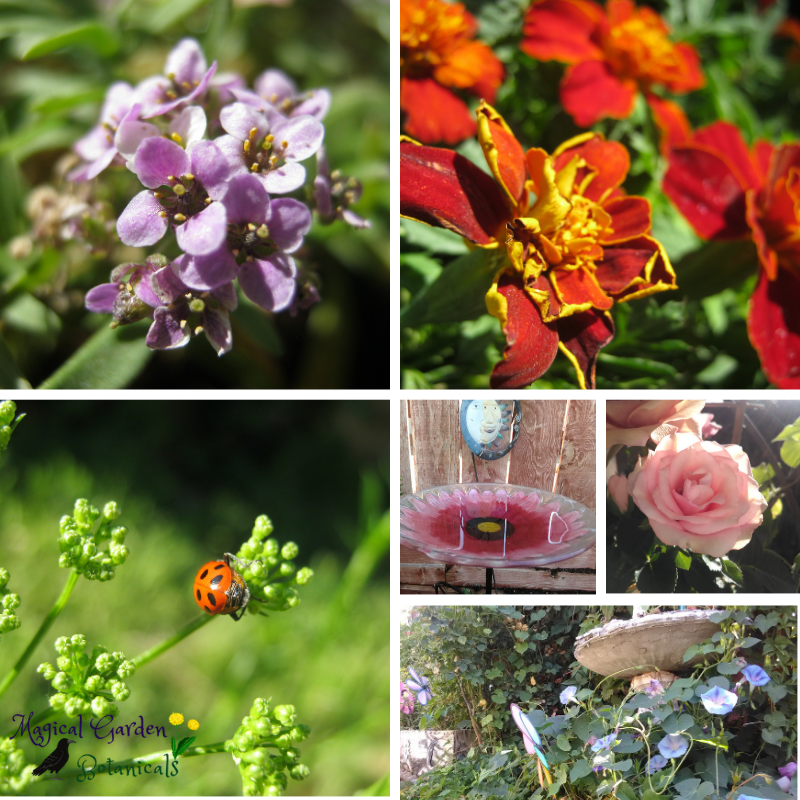 Daytime fairies and morning glories
The fairy garden hosts a variety of flowers and herbs. By the end of the summer, it looks more like a little forest as the fairies play hide-and-seek throughout the morning on morning glory vines that are sprinkled with dew.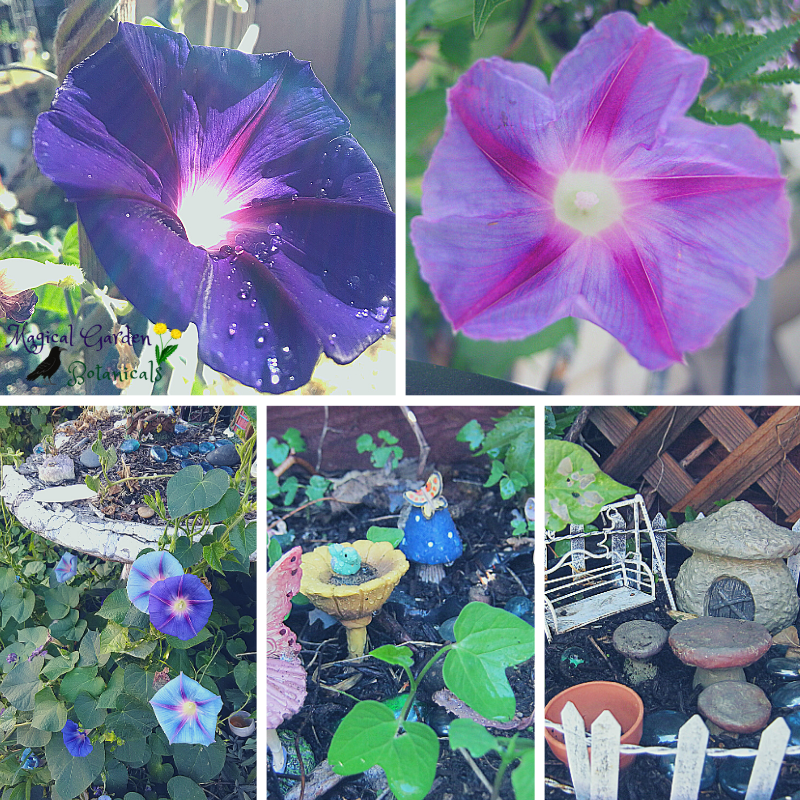 Straw bale garden
Earlier this year a friend shared with me the concept of straw and hay bale gardening. I was intrigued by the idea and set off to do some research. We decided on straw bales and began the conditioning process on March 17th. It took a few weeks for them to be ready to plant, mostly due to the cold and rainy weather we experienced at the time. I also wanted to wait until May to plant as any time before then is risky up here on the mountain. It's not uncommon to have a frost or even snowfall in May!
To condition the bales, I used blood meal. I followed the process of water only for 3 days. Then, beginning on day 4, alternate blood-meal and water with just water for a total of 10-14 days. After the 10-14 days, I only watered the bales to keep them moist. The point is to break down the straw, to create an internal compost. When I saw grass and a few other seedlings sprouting, I knew they were ready to plant. This is a great way to plant a garden, especially in areas with soil that is less than agreeable. If you want to try this out, take the time to do some research. I found many, and I mean many, different opinions on the "best" way to condition and maintain the bales. I read them all and then used what resonated with me. If you would like more information, feel free to contact me and I can share more of the nitty-gritty details.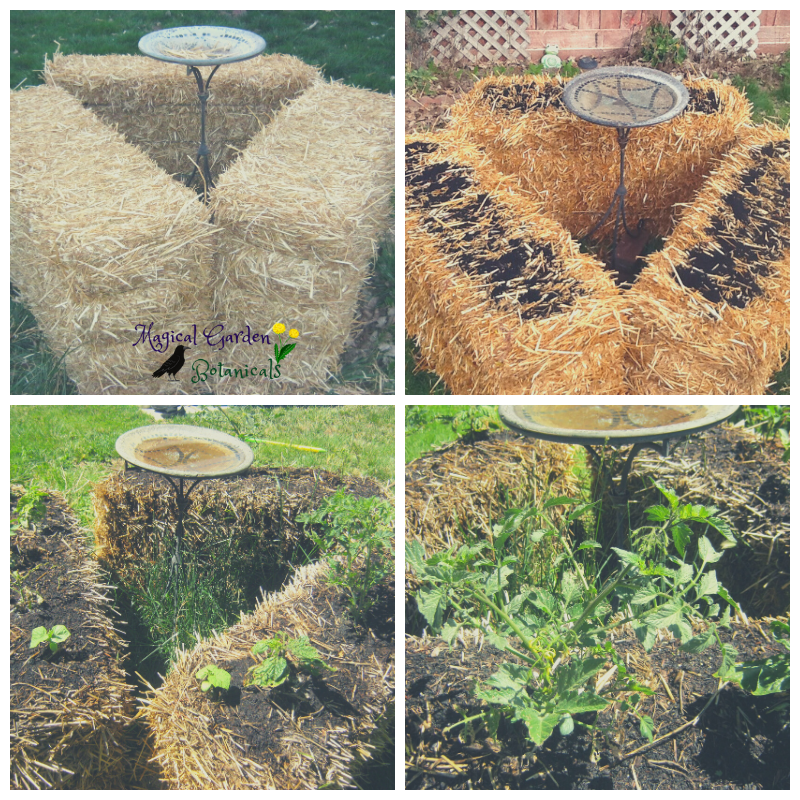 Nighttime fairies
The moon replaces the sun. Flowers welcome their slumber as the night creatures begin to emerge. The evening symphony begins. As if in harmony, the frogs and crickets share their melodies. The butterflies become moths, the birds switch to bats and the owl silently glides overhead. The garden transforms…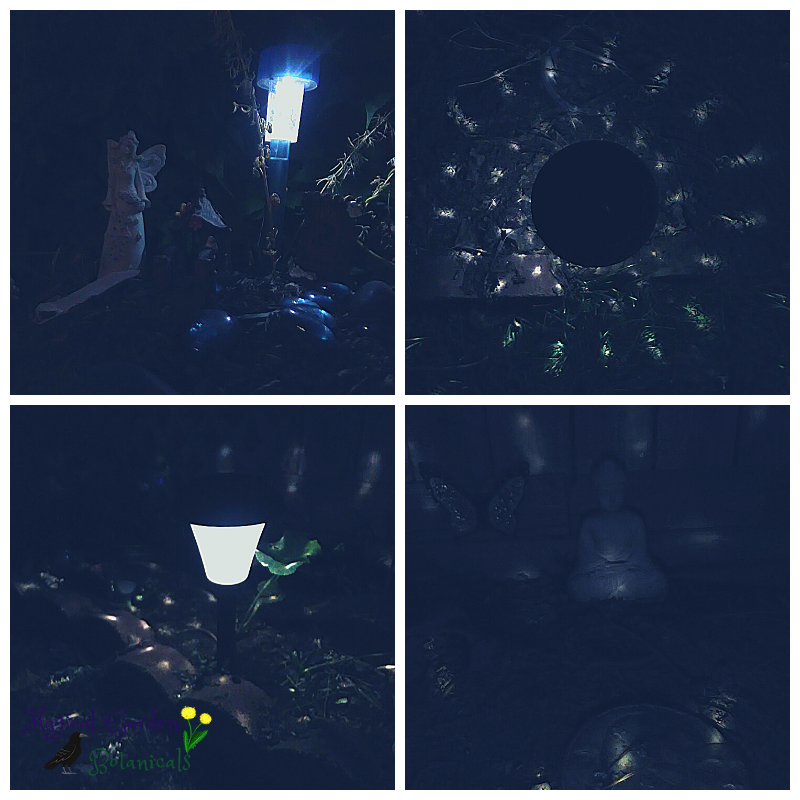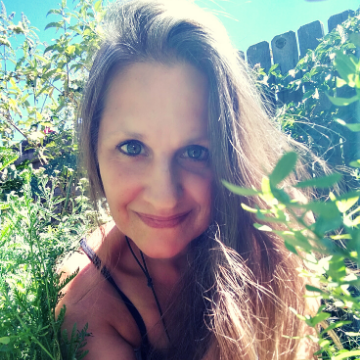 Daughter of the Earth, Mother of her creations. Ivanna (Evie) doesn't care for titles, but the ones that fit best are homeschool mom, herbalist, and blogger. Her greatest joy is guiding others to find true wellness within themselves and Mother Earth. When not spending time with her beloved family, she can be found researching everything related to holistic wellness, crafting herbal remedies, or visiting with the plants in the Magical Garden.