Time To Come Clean, Part 3
Time to come clean, again…
So what's the confession this time?
I haven't purchased household scrubbing cleaners or multi-purpose type cleaners in almost 2 decades. 
When I first began my journey of replacing my household cleaners with more natural options, a multi-purpose cleaner was at the top of my list. I tried a few recipes and then later customized one that worked for me. I prefer to keep my recipes simple and of course, effectiveness is a priority. Read on for the nitty-gritty details of the scrubbin' cleanser.
Scrubbin' Bubbles was what it was called. This was a product that I sold under the name, Evie's Earth, my first website that I created back in 2005. It was actually one of the most popular products. 
Baking soda and distilled white vinegar?
Yes to the baking soda and no to the vinegar. Baking soda and vinegar is the well-known combo used to make "volcanoes". (Science Alert!) Being that one is a base and the other an acid when combined, it creates a chemical reaction. The chemical reaction forms a new chemical called carbonic acid. Carbonic acid decomposes into water and carbon dioxide. So in other words, after all of the fizzing and bubbling, you just end up with water. Technically it's not really white vinegar anymore. So why even use it? Mixing together baking soda and vinegar is great if it is being used immediately, otherwise, you are just wasting the vinegar. Baking soda is a great deodorizer and cleanser. So let's talk about this instead. Baking soda makes a gentle and toxin-free alternative to the soft scrub type cleaners found at the grocery store. Read more here and here about baking soda for household cleaning. 
The bubbles of the scrubbin'
Everyone loves bubbles. Bubbles are synonymous with clean. So the bubbling agent here is liquid castile soap. Castile soap comes in liquid and bars. It's a natural alkaline soap that is made from vegetable oils. It's the only soap I ever buy as it's extremely versatile. To make a multi-purpose cleaner add some water, baking soda, and essential oils and you are ready to clean! Read more here about glorious bubbles and how to make your own liquid hand soap.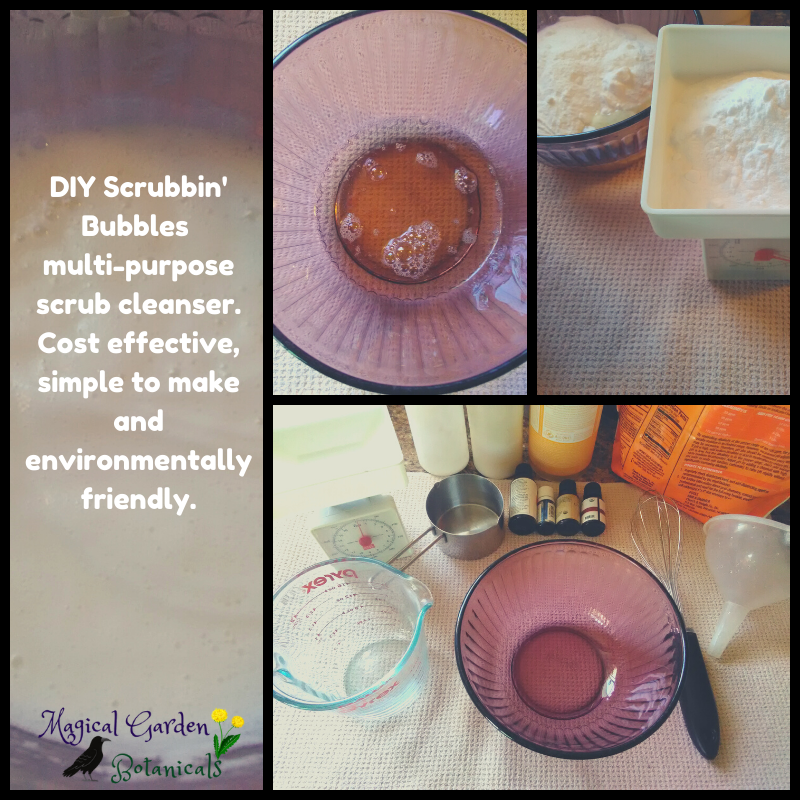 Let's put it all together now
To make this simple cleaner, you will need a few supplies and ingredients. 
Ingredients:
Baking Soda
Dried and powdered citrus peels. (optional) Details and how-to here.
Water
Essential oils (optional)
Supplies:
Measuring cups
Whisk or spoon
Funnel
Medium bowl for mixing
Container to store the finished product. (I use these) 
Directions to make one 16 oz. bottle:
In a medium bowl, pour ½ cup liquid castile soap.
Measure 1 lb of the baking soda, add to castile soap. No kitchen scale? That's about 2 cups.
If using, add 1 tbsp of the citrus peel powder. Mix well.
Add ¾ water. You can also adjust water to the desired level of consistency. 
Add essential oils, this is optional as well. Skip if an unscented product is desired. Otherwise, depending on the oils, up to 20 drops can be used. Different oils offer a variety of benefits, including antiviral, antibacterial, and antifungal. And don't forget aromatherapy! My favorite is orange. Who doesn't want to feel uplifted and happy while doing housework?
Mix well and pour it into a lidded container. Use a funnel as the mixture will be thick. I prefer a plastic flip-top container so I don't have to worry about slippery hands dropping glass containers. 
Shake well prior to each use and rinse the cap afterward if using a flip-top container. Use as you would with any type of scrubbing cleanser- squirt a small amount onto the area, scrub and rinse well.  Perfect for bath, kitchen, outdoors, and more. The cleaner may thicken a bit over time, so add water as necessary. This is a gentle nonabrasive cleaner, however, it's always wise to spot test first on delicate surfaces. 
Cost-effective, simple to make, and environmentally friendly…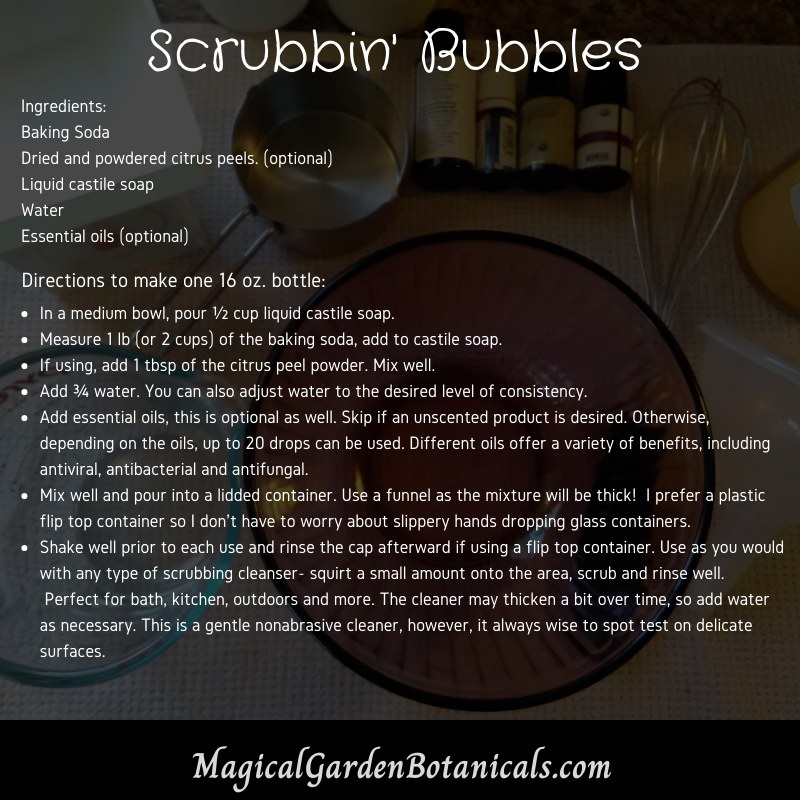 Sources:
Ingredients in store-bought soft scrub cleaner.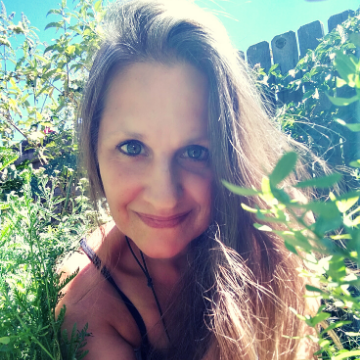 Daughter of the Earth, Mother of her creations. Ivanna (Evie) doesn't care for titles, but the ones that fit best are homeschool mom, herbalist, and blogger. Her greatest joy is guiding others to find true wellness within themselves and Mother Earth. When not spending time with her beloved family, she can be found researching everything related to holistic wellness, crafting herbal remedies, or visiting with the plants in the Magical Garden.