Homemade Hair Gel
My hair care routine is fairly basic. I don't do much with my hair beyond washing and allowing it to dry naturally. However, a few of my family members have hair that requires a bit more negotiation to keep in order. Thick, long, and curly hair can be unmanageable at times. So this is where hair gel is sometimes a necessity. Over the years I have purchased "natural" hair gels, ones that contain less toxic and minimal ingredients. However, they often seemed to be lacking in performance. This would result in resorting back to the store-bought products.
Have you ever read the list of ingredients on a bottle of store-bought hair gel? Many haven't, it's just something we toss in the shopping cart and not give a second thought.  Here is an ingredient listing from a popular hair gel:
Ingredients
Water/Eau, Pvp, Fragrance/Parfum, Chitosan, Lactic Acid, Polysorbate 20, Peg-40 Hydrogenated Castor Oil, Phenoxyethanol, Polysorbate 80, Peg-60 Almond Glycerides, Methylparaben, Disodium Edta, Ethylhexylglycerin
A quick read of this list brings to mind a couple of points I refer to while purchasing personal care products. The first point asks if the ingredients are easily recognized with names that are readable at first glance? Secondly, are the ingredients edible? Always remember that our skin is our largest organ and everything we put on it is absorbed into our body. So in all essence, personal care products should be viewed as food for our outer body. For more information on individual ingredients please visit ewg.org. For tips on choosing personal care products, check out this previous post.
I really wanted to find a hair gel that was efficient and not overly expensive.
So what did this mean? Well, if you know me, this meant it was time to employ the guinea pigs again. It was a calling to create what it was I desired. So after a bit of research and tinkering, I dialed in a simple, one ingredient recipe for an effective hair gel.
What is this magic ingredient you ask?
Flaxseeds! Flaxseeds are high in omega 3 fatty acids. This can promote hair growth and increase elasticity. The anti-inflammatory properties are beneficial in preventing dandruff and other scalp conditions. They are also rich in nourishing vitamin E, which is beneficial to hair and scalp. Vitamin E may also help to prevent premature greying. 
How-to and a few tips
Simple Homemade Hair Gel 
Items needed:
Directions:
Bring water to a full boil, add flaxseeds, and stir well.
Reduce heat and boil for 5 minutes, stirring often.
After 5 minutes, the liquid should have a consistency similar to egg whites.
Remove from heat and strain immediately.  Stir the seeds while in the strainer to help remove all of the gel.
Pour into a lidded container and store in the refrigerator. Use within 1-2 weeks.
Once cooled, essential oils can be added for fragrance, as a gentle preservative, or for the benefit the oil imparts.
Additional tips:
Wash the pot as soon as possible to make clean up easier.
Do not leave the mixture unattended while it is boiling, it has the tendency to boil over quickly.
Save and rinse out an empty bottle from a previous purchase of hair gel to use for the DIY hair gel.
A squeeze bottle with a flip-top cap makes the gel much easier to work with.
The amount of water can be adjusted to 2 cups of water for a thinner gel. If adding more water, you will need to add a few minutes to the cooking time.
Compost the flaxseeds after use. Do not put them down the drain, they could potentially clog your sink.
Reusing the flaxseeds will produce a second batch that is not as thick as the first.
From my research, brown flax seeds are better than golden flaxseeds for making hair gel. Brown flaxseeds produce a thicker gel.
Essential oils can be added for a variety of benefits, including scent, as a gentle preservative, or simply to impart the beneficial properties of the individual oil.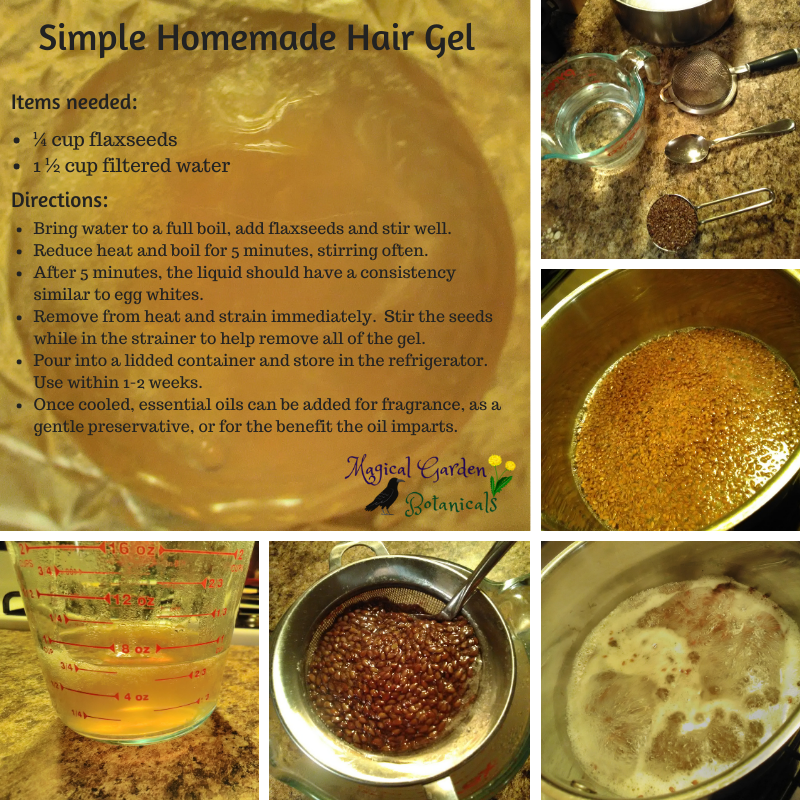 A DIY hair gel can also be made with gelatin. This is next on my list of "experiments". If you are seeking a more natural alternative to store-bought hair gel and DIY isn't your thing, no need to fret. Here are some I recommend: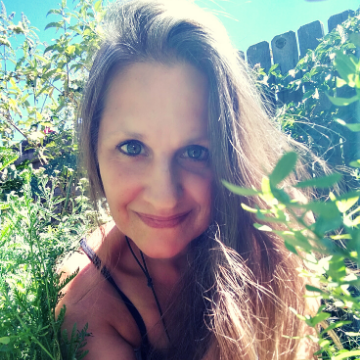 Daughter of the Earth, Mother of her creations. Ivanna (Evie) doesn't care for titles, but the ones that fit best are homeschool mom, herbalist, and blogger. Her greatest joy is guiding others to find true wellness within themselves and Mother Earth. When not spending time with her beloved family, she can be found researching everything related to holistic wellness, crafting herbal remedies, or visiting with the plants in the Magical Garden.